These stories are from real people who's lives have been changed by Coach Siemer and his team at CrossFit Effingham. They share their stories with you because they are you and want you to know you are not alone.
Kara Pickowitz
About 4 years ago, I was attending EIU to obtain my teaching degree. Throughout my time there, I would go to the gym on campus 4-5 times a week and go through the motions on the cardio machines, weight machines, and an occasional workout on the track. I did my best to eat right and stay active, but something was missing.
I wasn't seeing the results I strived for, my workouts were a "hodge-podge" of Pinterest workouts or just what I was feeling that day. This daily regiment became rather boring and unfulfilling to me. A close friend from home convinced me to come to Crossfit Effingham to switch it up.
A close friend from home convinced me to come to Crossfit Effingham to switch it up. Walking into the box the first time, I was a bit intimidated. I continued through the "On-ramp" program with other newcomers, where Ben and his staff taught fundamental movements. In that first week, I was sore and miserable! I figured this intense training was not for me and considered not coming back. However, I was incredibly inspired by the training staff and other members who worked so hard every day and did so with the support and love like a family.....click below for more...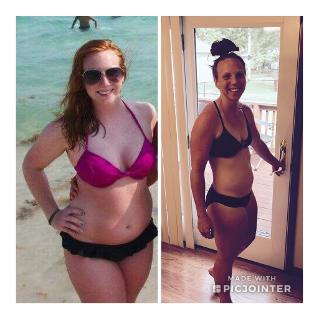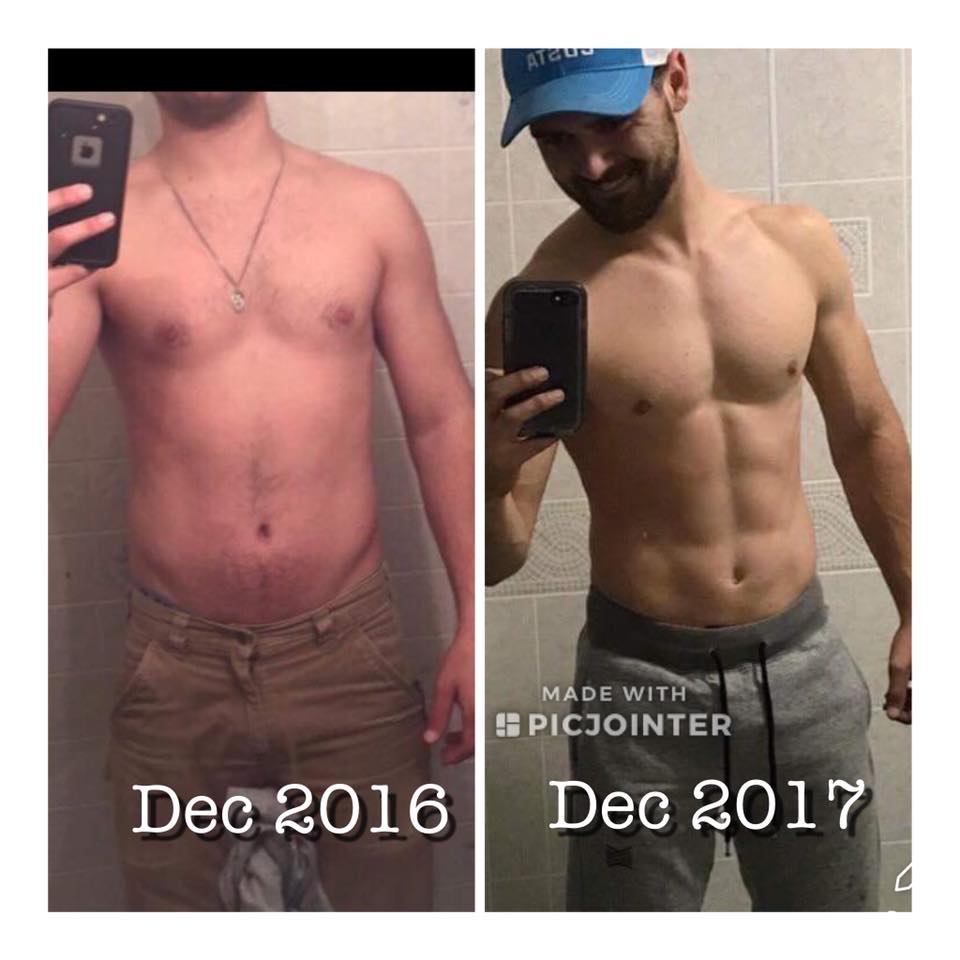 Chad N.
"A little over a year ago, I was on my computer reading something exactly like this. Someone's story on why they joined CrossFit Effingham, and talking about how it's helped them in multiple aspects of their everyday life.
I honestly didn't believe any of that. I was only trying to get in better shape, and ultimately looking the part. A couple days later I walked into Crossfit Effingham to a group of 9 strangers and Coach Siemer that I was supposed to train with.....
Tammy Probst, Second Testimonial.
I would consider this the " second phase" of my Crossfit journey! I started CF about 10-ish months ago. I NEVER thought I'd be lifting the prescribed weights on some workouts and I never would have thought 10 months ago that I would consider competing in CF competitions! For goodness sake... I'm 42 years old! My CF family has seen me and cheered me on thru the worst of times, but man, when the times are good, they are REALLY good with my CF family! The group of people at this box is an extension of my family! Always willing to cheer me on when I tell myself I can't .... However, no man is left behind in CF. They are with me til the workout is done! Since then, my husband and sister have joined our box and I can see them improving with each and every workout! It's an amazing sight to see them push themselves to their limits! My advice... Try it... You have nothing to lose and a family to gain! It's that simple. Don't be intimidated... We're here to cheer you on and no man is left behind-ever! -Tammy, 42
Lora Baird
I first worked out with Ben during boot camps in Teutopolis. I've always tried to be an active person and maintain my weight. Over the summer of 2012 I gained a lot of weight by not watching what I ate and I quit working out as often. When I was frustrated with failing to loose the weight on my own I started CrossFit in spring 2013. I love CrossFit and the support that the group provides. When working out at SiemerWorks with Ben and Shannon I feel more motivated to eat healthy, stay focused on my fitness goals & more overall more energy. Unfortunately, I have not reached my weight loss goal yet, however, CrossFit and all SiemerWorks keeps me motivated to work towards my goals!
Alita Pinal
Reason for First Visit? My Sister Davida dragged me to a Workout. :) Best Decision ever.
I have been at the box for about two months and it's safe to say I'm totally addicted. My sister convinced me to go to a Saturday Tabata and from that day on I was hooked. Being busy as a single mom and juggling school and work made it easy for me to put taking care of myself on the back burner. I felt so sluggish and unhealthy that it was starting to make me depressed. Since starting Crossfit, I have noticed a big upswing in my personal confidence, my mood and overall happiness, and I have reached places in my fitness that I didn't even know were possible for me. And I'm only a few months in! I have never met a group of more inspirational people and watching everyone improve and hit PRs and cheering them on gives me so much satisfaction. Not to mention, any time I am struggling I can always count on my fellow crossfitters to get me through til the end. I can't wait to see where Crossfit will take me in the next few months and years. I think it's safe to say that I have found a lifestyle choice that I can stick with.
March 25 2014
Rebecca Holste
Inquired after driving by so many times
Reason for visiting us: weight loss, strength and conditioning, Athletic enhancement, CrossFit
I have always been an okay athlete. For years I have worked out faithfully for a couple months and then would get bored and quit. My weight has been a vicious yo-yo. In 2010 my daughter was diagnosed with cancer & I watched her fight through chemo for 2 years like a champion. I decided then that the quit in me had to go away. I started cross fit at seimerworks on Jan 4th of this year. I felt welcome from day 1. Physically it has been the hardest yet most rewarding thing I have ever done. There is no getting bored! The coaching and atmosphere at the box is amazing. During the workouts I can feel the point where I would have given up before. I don't quit & I don't ever cheat myself on a workout. I have made more progress here in 3 months than I could have ever hoped for. I am becoming a strong woman, wife & mom that I can be proud of and I look forward to every day I get to workout at the box!
"Best decision ever for me to try a free Saturday at the box & get hooked. Keep up the awesome work!"
March 25th 2014
Alexis Ronan, Student SIUE
Prior to starting CrossFit, I was not active at all. Ben encouraged me to give it a try when I came to him for weight loss advice. The first few workouts scared me go death but once I touched a barbell, I fell in love. It quickly became the best part of my day. The encouraging environment and great community pushed me to become a much stronger version of myself than I ever thought possible. Because of school, I'm no longer a regular at CFE, but didn't give up CrossFit, I instead quickly found another box to frequent near my university. But I have Ben to thank for getting me to first touch a barbell and give the sport of fitness a try. Now, I'm regularly competing in competitions. I can squat over my body weight for reps. I can deadlift 1 and 3/4 of my body weight, I'm 15 pounds below putting my body weight above my head, and the girl who once thought pullups were impossible is starting to work on muscle-up transitions. I have Ben to thank for all of this, I wouldn't have become active at all if it weren't for him. I still can't believe some days I'm the strong woman I am today.
2013
Adam Bussard, Superintendent Brownstown, IL
How'd you Hear about us? "Drove by and saw a bunch of crazies workout outside."
I had been contemplating trying a new workout routine after going through Insanity and switching to strictly running. My lovely wife, two beautiful daughters, and I moved to the south part of Effingham in November. I began driving by the Crossfit place just about every evening. I was intrigued by the facility and what I read about the program on the crossfiteffingham.com website. I finally contacted Ben and he encouraged me to stop in one evening to try it out. Well, I did come and try it out in late November. There was no doubt I was joining. I've been coming to Crossfit for the past 4 months and I still can't get enough of it. Not only are the workouts great, but the relationships that I have developed have helped motivate me to attend every day I am able. I would recommend anyone to come and try out our Box. Although we all come from different backgrounds, we come in and work together to get better.
March 25th 2014
Caylee Zimmer,
"I moved to the Effingham area a little over 3 months before I heard about CrossFit Effingham. In an effort to meet new people and to get in shape, I had made the decision that the gym would be a great place to start. My co-worker suggested that I try out the CrossFit gym since I was looking for something a little more structured than just a regular gym (I have never been too successful at building my own workouts). I was a little intimidated of the idea at first but I decided to give it a shot, after talking to Ben. One of my hesitations was about workout modification, I have old knee injuries and definitely do not want to re-injure myself!Ben was very confident that the workouts could be modified for my safety but that I would still be able to achieve the optimum results. To this day I have not ever felt pressured to do something out of my comfort zone! The first day I attended class, I was a little nervous, afraid of failure and making a complete fool of myself. To my surprise, everyone was very welcoming and supportive. My first "WOD" consisted of kettleball swings, box dips, box jumps and a 1 mile run..... I was not a runner, absolutely no endurance! When I was almost finished with the workout (everyone else was already done), I decided I needed to walk because I just didn't think I could do it! The next thing I realize is one of the guys coming up to me. He was joining me in my last 1/4 mile of running to give me encouragement, he had already completed the WOD and instead of packing up and going home he stayed with me and ran some more! That act of support has left such an impression in my mind and heart, at that very moment I realized something so amazing! These people were not only there to better themselves, they were there to better each other. CrossFit Effingham is full of so many wonderful, supportive people. Together we are a team and we will push ourselves and push each other to be a little better everyday! I have been a member of CrossFit Effingham for almost 4 months now and I feel better than I could ever imagine! There is not one day that goes by that I regret making the decision to try it out!" 2013
Doug Thomas
"After a brutal Ironman Wisconsin in 2012 I needed change up in training that would give my 54 yr old body more flexibility and strength that so I could continue doing triathlons and marathons. Being a part of Crossfit has kept me competing and feeling great. The class is a welcome addition and change to my old training routine! AND I have a bunch of new friends who encourage and push me!" 2013
Shannon Huber
"I have always been active and enjoyed exercising, but for the most part I preferred doing it at home and by myself. I was never into weights and liked aerobic and cardio workouts. I was jogging and doing Insanity before I started crossfit and could tell a little difference in my body and strength, but after doing crossfit for just a few months, I am seeing much better results! And I love working out with weights and in a group as well. I am really happy with it. I am glad I joined and can see myself really staying with it. Thanks to Ben and everyone there!" 2013
Davida Allison, Mother of 2
"I lifted weights all through high school. That was my exercise. And I loved it. I was, to date, in the best shape of my life. After meeting my husband I gained 50 pounds within the first year of dating and kept in on in denial for a good year and a half. I finally woke up and lost the weight within 4 monmths doing a weight loss program and walking. My weight loss results were great, but my body was completely different. I now have 2 kids and my body is even more different. I've been fighting to get it back for years doing this DVD system or that, this diet program and that, and when I heard of CrossFit a year ago I knew it was for me. I finally found CrossFit Effingham about two months ago and decided to bite the bullet, budget it into my finances and make the commute sacrifice for myself and my family. AND I AM HOOKED. The changes I've seen in myself in these two short months have been just what I needed. The motivation to keep going, the self esteem boost to even try. My strength has already improved and my conditioning. The people at my box ROCK, and I cannot say enough good things about Ben and his wife, Shannon, and how helpful and supportive and encouraging and knowledgeable they are. It's only been two months and I can't wait to look back in six months or a year and be looking at a whole new person, inside and out. Thank you to the CrossFit community, and most importantly, Thank you to Ben and Shannon for opening this box right in Effingham and bringing this wonderful lifestyle to the community." 2013
"After losing 40 lbs on my own with running and DVDs, I started looking for other workouts to change things up. Tried some other classes and bootcamps, but nothing really challenged me the way I wanted. I had seen and heard about the Crossfit program and was intrigued. Then I seen the open house and was all about trying it out. At the open house, I drank the Kool-Aid. On top of finding a daily changing and challenging workout, I found a great group of people who have became close friends with and a second family! I am getting stronger, leaner and a better me with the help of Crossfit, my coaches and my friends! I encourage everyone to try Crossfit, no matter what fitness level they are. Everything can be scaled to what is best for them and work their way up, just like I did." 2013
Molly Adams,
"I started out my fitness journey at a traditional gym in November of 2012. Tipping the scales at a very unhealthy weight with no scheduled exercise in my life, I was very unhealthy and only going downhill health-wise. My first time at the gym, I did a total of 12 minutes on the elliptical and thought I was going to die. I had to lie down on the floor to catch my breath and was barely able to walk for two days. After this horrible enlightening experience, I started going to the gym every other day and logging my needed hour of cardio while slowly incorporating weight training. In February, a friend and I began training one day a week with a personal trainer to learn how to weight train. We began with bodyweight movements and slowly added heavier lifting eventually incorporating deadlifts, clean and jerks, back squats, ball slams, and box jumps after stumbling upon the Crossfit games on ESPN one day. After seeing strong men and women having fun exercising we knew we had to try it. We didn't think we were in good enough shape to try it but after much discussing and internet searching, we spur of the moment went to a tabata class one Saturday morning and haven't looked back. Ben and Shannon at Crossfit Effingham have helped me realize my potential as an athlete. They are always encouraging their athletes to push hard. They constantly go above and beyond what they have to do. The people at Crossfit Effingham are amazing as well. Everyone is willing to help out when needed and they genuinely care about each other. I have so much fun at each and every WOD and look forward to going into the box everyday!" 2013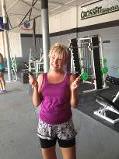 Juie Williamson
Searched the Internet for CrossFit in Effingham. Siemerworks came up. I wanted to be in a positive environment. Before my first time there, I checked around and found out Ben's reputation was exactly that.
After running for three years, I wanted to add strength training to my workouts. I am happy, happy, happy I found Siemerworks in Efffingham.
Lori Worman
I joined Crossfit Effingham on January 1, 2013. I really had no idea what Crossfit was all about, but the classes that were offered fit my schedule, allowing me to attend on a regular basis. I wanted a structured class that offered variety and challenge. Crossfit definitely met my criteria. Crossfit has not been the easiest for me, and there have been many times that I struggled to finish, needed an alternate or modified exercise, and often finish last. Ben has always provided words of encouragement and cheered me on to finish. Since joining, I have lost 30lbs, have seen my body fat percentage drop 10%, have run two 5K races finishing first and third in my age group, and am stronger and healthier than I have been in quite some time. Thank you Ben and the Crossfit family for the inspiration.
Quintin Siemer, Father of 3, Pilot and GM Consultant
"I always made fun of the CrossFitters, but once I did one crossfit and felt the absolute corps de espirit I was sold. Everyone was excited to see me and meet me and every time I go back it is like a reunion. I love the box and look forward to every visit." 2013
Jennifer Chrappa, mother of 2, PTA and one of our group fitness instructors now.
"I started a bootcamp at the park with Ben in March of 2012, and have continued taking the Bootcamps that he offered until she started Crossfit classes, and I fell in love......or drank the Koolaid as they say. I never been able to stick with a workout plan, but with the family I have found at Effingham Crossfit, I can't imagine not going! I also never imagined teaching classes, and somehow, Ben talked me into becoming Indorow certified, and now I teach 2 days a week........I have completed many firsts in this gym and everyday, I walk out stronger.......I have Ben Siemer, and Effingham Crossfit to thank!" 2013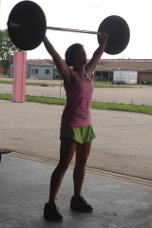 Emily Nelson, Teacher
"After having my first child, I struggled to lose the 50+ pounds I gained. I started running and fell in love with it. After having baby #2 I was in a bit of a rut. Running was still a huge part of my life, but I felt I was at a standstill physically. I had heard of Crossfit, but I thought there was no way I could do that. I tried to do some strength training on my own, but had no idea what I was doing and the thought of walking in a gym facing all that equipment without any guidance scared me to death. I was reading through a friend's Facebook page, and she mentioned Crossfit. I asked her for details, and she linked me with the Siemerworks webpage. I called before I chickened out, and went in to talk to Ben that afternoon. After speaking with him, I was sold. Because of crossfit, I am a better mom, wife, teacher, and person. This is a community where judgment is nonexistent. The focus is improving yourself and encouraging others. I have gained not only confidence and strength, but more importantly a community of people who cheer me on during good days and pick me up on the bad." 2013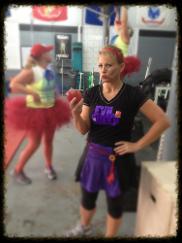 Kate Passalacqua, Insurance Agent
Started Crossfit in February 2013 - one of the hardest workouts I'd ever done, but I LOVED it and was hooked. It has an element of competition (in a good way), and yet you find yourself cheering on everyone else. I am over 40 but am now faster, stronger, and in better shape than I was in my 20's thanks to Crossfit and Ben's training.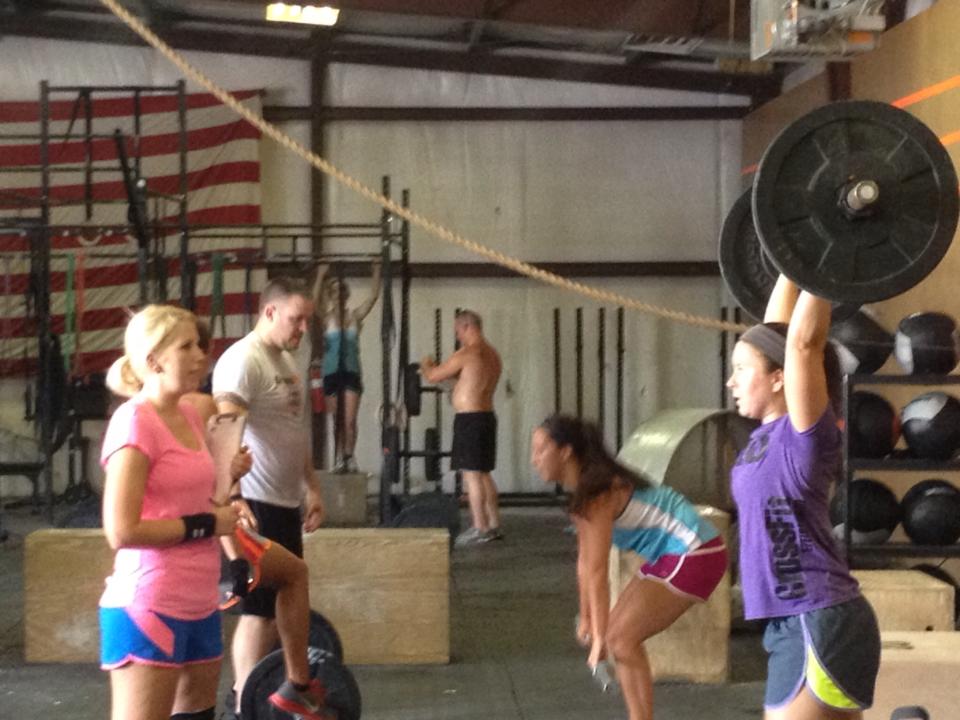 Alexis Ronan, 18 College Student
I went to Ben at CrossFit Effingham after my freshmen year of college. I had never been in shape but after freshmen year I was at my heaviest. At this point, my self-confidence was at an all-time low and I knew something needed to change. He encouraged me to try CrossFit. This was a huge jump outside of my comfort zone and something I had never imagined myself doing. After just two WODs, I knew I was getting hooked. I made it a priority that I get to the box five or six times a week, missing my workouts was no longer an option. CrossFit is definitely the best part of my day now. When I first started crossfitting, my only focus was weight loss. Now, I find myself trying to reach my fitness goals. I've already felt so much improvement in my workouts, and it just makes me want more! I really want to be better, faster, and stronger. I am nowhere near what I want to be but every single day I feel better and stronger. My biggest goal is to someday be a competitive crossfitter. Ben's encouragement and coaching have helped me so much in my attempt to improve my lifestyle. I really look up to him and really enjoy learning from him. Shannon has also been such a help in the start of my fitness journey. I really look up to her as one of my biggest role models. Her strength is amazing and watching her train inspires me to challenge myself more everyday. Now, when I go back to school I have found another box to join! There's no way I could give this up now! Of course every time I come home my first stop will be CrossFit Effingham. -2013 -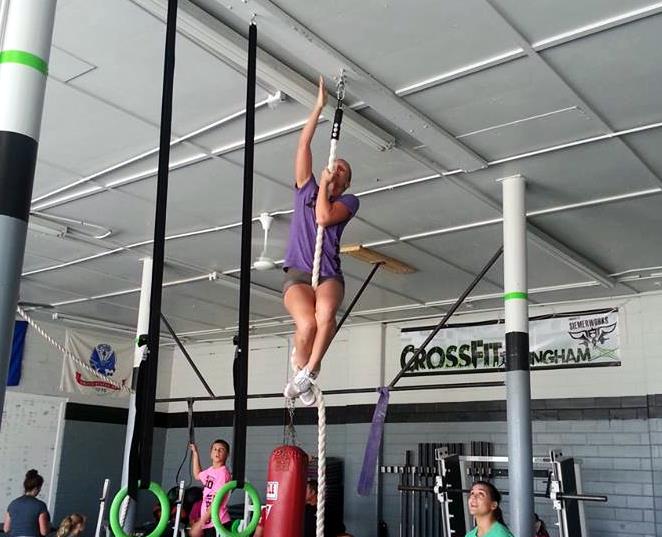 Mandy Hill, 27
I have been a runner all my life and it started to take a less than positive toll on my body. (Knees, hips, shins) I reached out to Shannon about Fitness competitions; I was motivated right from the start! Once we picked a competition date, a division, and all the extras; immediately I started working with both of them on weight training, conditioning, eating habit, routine training, theme, and music; things of that sort. They have and still are so supportive and motivating, even at the hardest times when I was/am ready to just give it all up they give me what I needed to stay focused. I have gone on to take top 3 in all my competitions. :) With their help, support, motivation, and trust I was able to achieve my goals! Thank you Ben and Shannon! - 2013 -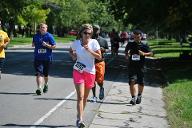 Tammy Probst "over 40"
Wow...Where do I start! Ok...let's face it...When a woman turns 40, it gets harder and harder to lose weight or just maintain her weight. I sought out Ben when I started getting bored with my past workout regimine. Before I met Ben, I was doing a Bootcamp style class 3 days/week at 5:15am in Effingham. It was time for me to do something different when I started talking myself out of going. I asked a friend of mine about the 5:15am bootcamp in Teutopolis. I looked up Ben and started doing the bootcamp. I really liked it, however, I needed more of a challenge. I started intertwining his 5:15am bootcamp with a 1 to 2 day session of Crossfit. I WAS SCAIRED TO DEATH OF CROSSFIT!!! After doing Crossfit for a few weeks, I psyched myself out that I couldn't do it - - it was too dang hard. I then did bootcamp for a few more weeks and thought, "I'm going to do this Crossfit thing", so I started back up at Crossfit once again. I stuck to it this time and now I participate 4-5 days per week. I'm a competitive person, so working out with mostly younger people gave me some anxiety, but it pushed me harder to complete whatever WOD (Workout of the day - yes...it took me about a week to figure out this acronym-ha!) he wrote on the board. I still walk into Ben's Crossfit class with anxiety almost every day, but I KNOW I CAN do the workout, even if I'm not the fastest! I definately have seen my strength and agility increase. I NEVER THOUGHT in a million years I could row 10,550 meters, but Ben was there...pushing and encouraging me every step of the way! There have been times when I've secretly got teary eyed after a workout because in the beginning, I didn't think I could do it, but then something happens with his class...you WANT to do it! Ben has helped me accomplish the fear of working out HARD! So, let's just say...I'm over 40 and feel fabulous! The class itself is made up of such a diverse group. This group pushes and encourages you to do your best! There are all levels of fitness...which means we ALL cheer for each other to complete the WOD. We have a great group of people and there's always room for more! 2013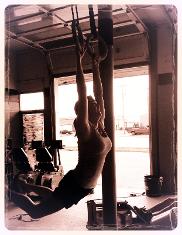 I've never had such a fun, high energy and challenging workout. I was so hesitant to try CrossFit but couldn't be happier with it. It's been such a positive experience. So thankful to have such a great place close to home like CrossFit Effingham that's filled with such motivating people. 2013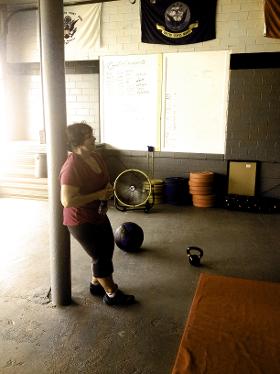 April 30, 2012 is the day that a lot of things changed in my life... A friend of mine and I began seeing our trainer, Ben Siemer.. The complete details aren't necessary but let's just say... the timing was perfect! Struggling with weight problems was not new to me, I had tried nearly every weight loss plan there was, sometimes more than once, and always... no permanent results. Like I said.. timing was perfect... and somehow i felt as tho things could and would be different this time! And so we started our fitness quest~ my friend and I~ as a team. When We first began training with Ben, I had never set foot on an elliptical machine! Needless to say, I was not very proud of the fact that I could barely last 5 minutes on it! Along with physical training, Ben has taught us the 'fine art' of clean eating and I know it's something that will be easy to stay with for the rest of my life. We should eat to live rather than live to eat! He challenges us to be the best we can on a daily basis not just on 'training' day. He pushes us to go farther and faster, changing our training sessions depending on what we need to make our bodies stronger...healthier.. better. Strength and endurance are a big part of our training program. Ben has to counsel us from time to time because we're only human....Believe me when I say he has his hands full! But, he does so with encouragement and positive thoughts! Although weight loss was a huge goal for us, and sometimes our progress is slower than what we'd like, it's not always about the scale and the numbers. Speaking of progress, we have lost 50 lbs each and not done yet! :) What I see as important, in my quest for fitness, is his training program that will enable me to become stronger, be more fit, lose unnecessary body fat, and live a healthy life for the rest of my life. Hey, I've got a lot more miles to jog... and mountains to climb! Trainstrong!
Jacy White - February 19, 2013