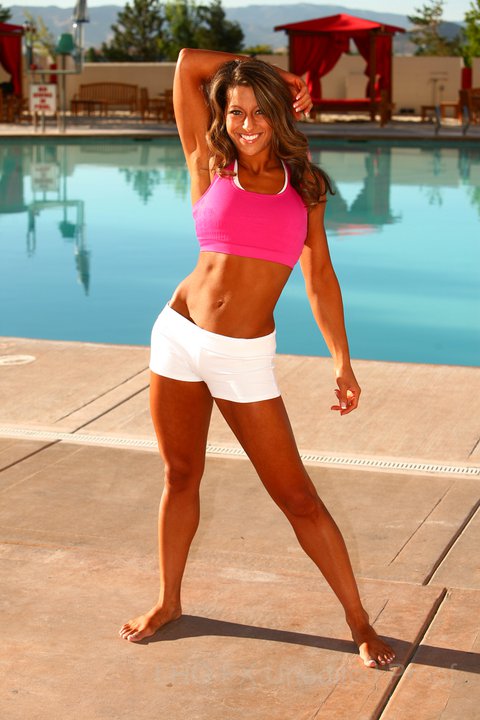 Credentials:
M.A. in Clinical Psychology
IFBB Fitness Professional
ISSA Certified Fitness Trainer
Certified Indo-Row Instructor
Certified Shockwave Instructor
Certified Zumba Instructor
HIIT Instructor
Certified American Red Cross Instructor
Competitions and Results
2012 Arnold Amateur - 3rd
2013 Arnold Amateur - 3rd
2012 NPC Jr. Nationals - 5th
2013 NPC Midwest - 3rd (Figure)
2012 NPC National Fitness Championships - 4th
2013 NPC Jr. Nationals - 1st (Earned pro status)
2013 IFBB Tampa PBW Championships - 9th
IFBB Pro Shannon Siemer, M.A., ISSA Personal Trainer and Wellness Coach
I was born and raised in Effingham, okay, that's not entirely true. I was actually born in Urbana, but grew up in Effingham. After high school, I escaped the small town life only to find myself in the grand town of Charleston, IL in pursuit of a Master's Degree in Clinical Psychology from Eastern Illinois University. Working my way through school, I learned how to clean a gym thoroughly, lead a team to do the same, and eventually manage the campus recreation center that so graciously paid my tuition. Meanwhile, I maintained a part-time position through Effingham County Health Department (ECHD), my grades and my sanity J Once I graduated, I received a full-time position at ECHD, where I still maintain employment today and wear many hats as does any government employee. I spend quite a bit of time instructing American Red Cross courses through ECHD as well as promoting our tobacco cessation programs. I began competing in the bodybuilding realm in the "Fitness" division, through which, I recently claimed the status of an IFBB Professional fitness competitor. Throughout this time, my husband, Ben, and I decided to open Siemerworks Studios in order to better help, coach and inspire those around us to live a healthier lifestyle, including ourselves… and, well, to share our type of playground of course!
Why/What You Love About Fitness & Instructing: I love meeting new people, helping them realize their true potential. In return, I am inspired to learn more, train harder, and live healthier, which helps me to push past thresholds and achieve my own personal goals. I love the positivity, encouragement and support that evolves from sharing a good, hard workout with others.
Favorite Workout: I don't know that have a particular favorite workout per se, but I love setting new PRs on snatches, deadlifts, and clean & jerks. They make me feel like a beast! J
Role Model: I have many… Of course the 7 time Fitness Olympia Champ, Adela Garcia, the chick is a ripped up, latin energizer bunny, along with the only woman to defeat her, the ungodly flexible, Oksana Grishina.
I also have my favorite female CrossFitters, such as Camille Le-Blanc (AKA Pull-up QUEEN), and former gymnast and powerhouse, Julie Foucher.
In the educational realm, I'm a huge fan of pro bodybuilder Dr. Layne Norton, and pro trainers Scott Abel and Mike Davies.
But at the end of the day, my husband, family and friends will always be my first choice role models, as they have been responsible for shaping who I am today.
Funniest Thing You've Ever Done: Ran face first into a glass sliding door, like a Windex commercial. I didn't realize it was closed, so I literally was running and BAM, smacked into it and knocked myself unconscious for a few seconds. I'm not really sure how it didn't shatter!
Favorite Cheat Food: How about meal? LOL And only 1? I love Shrimp Fried Rice and Garlic Shrimp and Vegetables from China Express, Anything from Puerto Vallarta especially the Speedy Gonzalez, and Sizzling Chicken and Shrimp from Fridays. And a chocolate, peanut butter, cookie dough concrete mixer from Culvers, AND the salted caramel pretzel milkshake from Steak N' Shake. I think that about covers it! Oh and anything from IHOP :D